Brand Development: From Theoretical Brand Guides to Practical Online Branding!
All's good and well with theory and nailing your branding basics down on paper.
But how can you take your brand off the playground and out into the real business world so you can develop it into a fully-fledged online brand?
Follow these seven essential steps and start to see your brand take shape and grow right before your eyes!
1. Brand Your Website
Your website is to your brand what clothes are to your style: representative.
Think of it this way, we all know that first impressions are crucial.
When you walk into a room full of strangers—whether at a networking event or the hottest club in town—your clothes offer the first clues to your personality: polished and artsy, hipster but scruffy, fun and loud, the all-back creative, etc.
And matters only intensify online.
According to research, the time people spend on a website averages to a whopping 8 seconds, with users forming their impression of that website in the first 50 milliseconds of landing on a page.
Yowza! 50 milliseconds!
That means potential customers get an impression of your business before they even blink once!
If your brand values are innovation and humor but your website looks like a blast from the past, visitors will never know.
If your brand values are sheen and elegance but your website is busy and unfocused, potential clients will never know.
If your brand values are fun and whimsical but your website bores visitors with its dark colors and same-ol' structure… they'll never know!
To put it briefly: when the look of your website doesn't immediately communicate your brand values and personality, you're risking losing clients.
Luckily, you don't have to be a web-design genius to get the right website for your brand.
There are many customizable html site templates available today that can help you get the best look for your brand, such as the Foundry template below: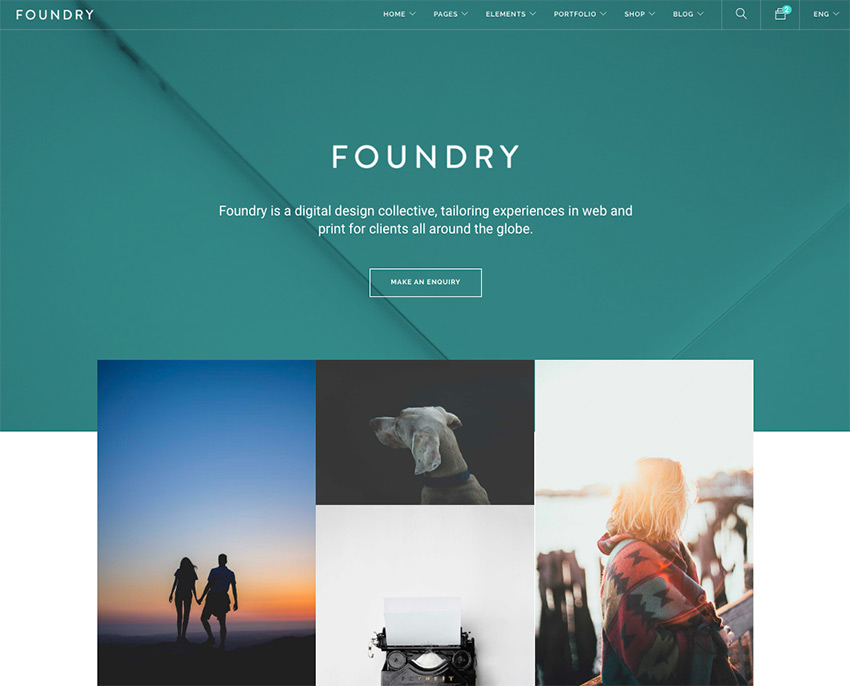 Armed with the elements of your brand personality and your brand's core values, you can select the website template that best represents your brand. Choose one that gives visitors (and potential clients) the right first impression about who are and what your business stands for.
2. Communicate Your Brand Digitally
Your brand should not be a well-hidden secret; it should be the compass guiding all communication with your audience.
And the best way to communicate with your online audience is via email. If you're not sure what email marketing is or how it works, check the following primer article out:
If you're already using email marketing as part of your online branding strategy but want to boost the results you get from it, have a look at our Email Marketing Jumpstart series.
Just like your website, the emails you send out to your audience must be well "dressed" in your brand to instantly remind your audience who you are, what you stand for, and why you're different.
The emails that a playful and adventurous children's photographer sends out, for example, should have a different look and feel than those of a game developer with a dark and twisted sense of humor.
Luckily, there's a slew of different email newsletters designs that can help you dress your communications in the style that best represents your brand.Sketch Email Builder below is an examples that could work well for creative freelancers or an innovative small business: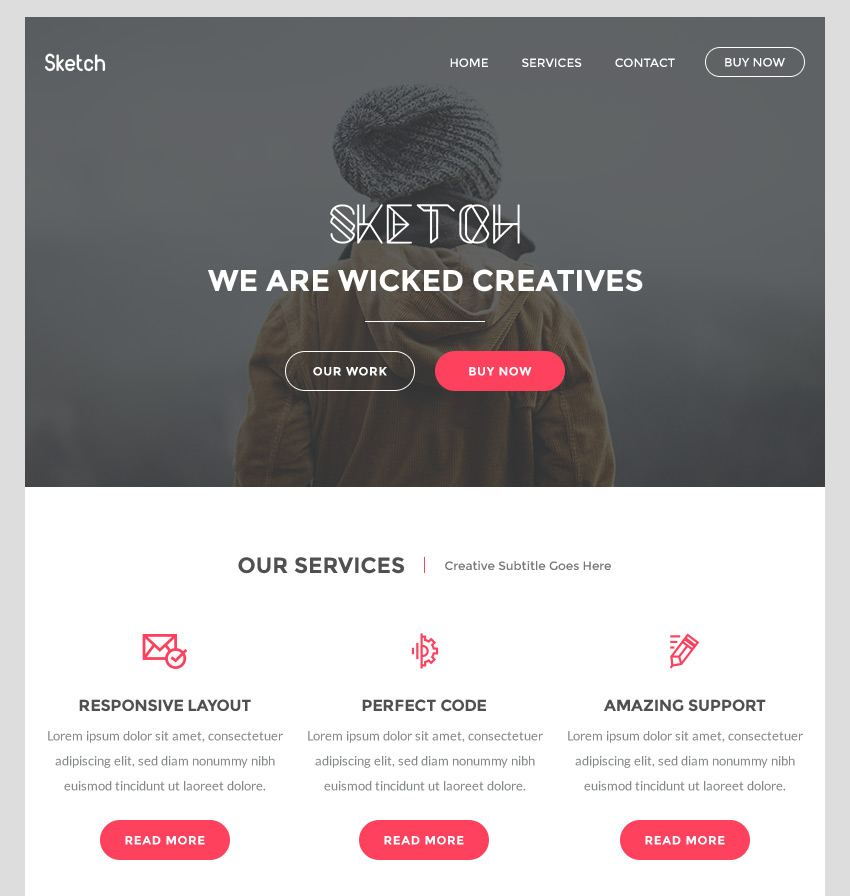 3. Research Your Audience More Deeply
If you've already done the work to discover your brand values and brand personality, then you should have done some basic research into your target audience.
You probably know a little about who they are, what they need, and why they might be inclined to choose you over competitors in your field.
Fantastic!
Now what?
Now it's time to research your audience even more.
If you're scratching your head wondering how researching your audience can help you with your brand development, stay with me for a moment. 'Cause this is really important!
Your target audience isn't a block of nameless "they" that remain the same even as the world around them changes. Your ideal audience is more like a living, breathing organism that constantly evolves and grows.
If you want to see your brand grow and flourish into a successful online business, then you need to keep your finger right on the pulse of that audience.
And the best way to do that is through periodic audience research.
Before launching or creating a new product or service, survey your audience through your email communication to see what they want and need.
Every time you finish a project or sell a product to a client, ask that client for an honest review and feedback. What did they like? Where could you improve? What are they missing?
When a new book or app appears on the market that serves your target audience, go read the comments and reviews people leave about it. Do they like it? Do they not? Why? What are their pain points? What would they like to see?
There will never come a day when you can put your feet up on the table and say: "I know everything there is to know about my target audience and can discover no new things from now on."
If you want your online brand to keep evolving, you need to keep reaching out to your audience and connecting with them so you can adjust your branding strategy according to their needs and feedback.
Because the better you know your audience, the better you'll be able to serve them. And serving your ideal audience is the only reason you're in business in the first place.
So yeah, audience research is a pretty important brand development tool!
4. Attract New Qualified Leads to Your Brand
So far we've talked about developing your brand by capturing the hearts and attention of your visitors and current audience.
But you can't just sit quietly in your corner of the internet and wait for people to discover your brand. At some point, you have to go fetch new visitors and potential clients to you.
And there's no better way to do that than through a Lead Generation Magnet, or a freebie as it's often casually called.
The name Lead Generation Magnet may sound daunting but the idea behind the marketing-speak is simple:
Delight visitors by offering them something of value for free in exchange for their emails and win fans (and potential customers) for life.
Lead Generation Magnets usually take the form of ebooks, checklists, or lists of favorite tools. Other ideas can be a short instructional video, a worksheet, a case study or a guide.
The form doesn't really matter as long as the content is irresistible and valuable to your ideal audience. (Hint: refer back to that audience research to discover what that is!)
For a deeper dive into how this to delight and win fans to your brand online, check out the following two guides:
5. Offer Value Through Your Content
Growing your online brand, just like growing anything else, won't happen overnight.
Just because you put up a branded website, sent out a branded newsletter or two, it doesn't mean that people will immediately flock to your business.
And those new leads you just attracted with your fantastic freebie? They won't stay subscribed to your list for long if you can't keep delighting them with awesome content.
Even worse? If you don't provide regular useful content on your site, the almighty Google will think that your brand is just a dummy and push it to the umptieth page of its search results, leaving you zero hopes for development.
So how do you plan some content that offers value to your audience and alerts Google to your developing brand?
You begin discussing and answering your ideal audience's most burning issues and questions.
The things that they search for on Google all the time. The things that they wonder while on long walks through the parks. The things that keep them up at night wondering if anyone has the answer.
Those things. They should all be all your blog. Or your proressional vlog. Or your podcast. The packaging doesn't matter as long as the content is top-notch.
When people find value in the regular content you share, not only are they more likely to stick around, but they're also more likely to share that content with friends.
And when people begin to trust you as an expert in your field, they'll be much more likely to buy from you than if they just stumbled upon your website without prior contact or communication.
Let's say, for example, you're a video editor. You have a weekly vlog showing entrepreneurs tricks and tips on how to edit their videos to achieve a professional look.
Eventually, one, two, three, ten of those entrepreneurs decide that video editing takes up too much of their time; they need to hire it out.
Who do you think they'll go to for the job? Someone random off the internet that they've never heard of before, or the person who's been helping them edit their videos for the past several months?
Naturally, they'll go to the person they know, like, and trust!
6. Develop Your Social Media Mix
In order to boost your brand development efforts and connect with your audience through your brand personality, you need to start socializing with your audience and other brands online.
When spreading your brand personality over social media channels, however, you should be careful not to spread yourself too thin.
There are eleventy billion and three different social media channels you could be using these days to get your message and your brand before people.
But using all of them will only exhaust you, not help you develop your brand.
The trick here lies in understanding that you don't need to get your brand before all eyeballs surfing the internet, but only the right eyeballs—i.e. just the yes of your target audience.
In order to achieve that, you need to figure out on which social media channels that your ideal audience already hangs out on and then decide how to reach them there.
For example, if you're selling website designs to financial institutions, you probably have no business (really, no business) posting on Pinterest.
But you probably want to go full-throttle on LinkedIn, since that's the network of choice for most professionals of traditional institutions.
Now, if you're selling healthy-smoothy recipes to fitness conscious college students, LinkedIn is sure to fail you while Pinterest might be the only place you want to be.
It's all a matter of understanding where you audience gathers to discuss or find inspiration about issues relating to your business and making sure your brand actively participates in the discussion.
7. Work With Other Brands and Entrepreneurs
No brand is an island unto its own.
If you keep yourself isolated from other brands in your field and related fields, you'll have a hard time surviving, let alone thriving.
Teaming up with entrepreneurs for content creation (vlogs, podcasts, guest posts), for information products (courses and webinars), or even plain ol' networking can be invaluable to your online branding strategy.
When you network with other business owners through professional events and conferences (both online and off) you win exposure for your brand and make connections with people who can either refer clients to you or partner up with you in a later business endeavor.
When you team up with other professionals, you not only bring greater value to your audience, you also gain access to their audience who are likely to be interested in your business as well.
For example:
If you're a video editor, you might want to team up with a script writer to explain to your audience how to create a powerful concept behind the video you'll help them edit.
If you're a wedding photographer, you may want to bring on a bridal make-up artist to explain to brides-to-be and maids-of-honor how to get ready for the big photo shoot.
If you're a web designer, you may want to join forces with a copywriter to help your clients create websites that are not only visually stunning but also powerfully worded.
But before you go around calling everyone you know that could team up with you, keep this very important caveat in mind:
You should only partner up with business brands whose brand values align with yours.
It's not that your brand values have to match, but they have to be in sync in order to be working towards a common purpose with your audience. Partnering up with a brand that doesn't speak to your ideal audience, or even goes against their values, may end up backtracking your brand development when you lose some of your followers.
But when you find the right brands and people to connect with? Brand development magic can happen!
How Do You Grow Your Brand Online?
Have you tried any of these online brand development steps yet? If yes, what brought the best results? Which of these steps would you like to take next? Is there anything holding you back?
source: https://business.tutsplus.com